A Glimpse into Life with Ovarian Cancer
Last updated: August 2021
An ovarian cancer diagnosis can change life in an instant leaving many feeling unsure about what comes next. From symptoms and diagnosis to treatment and side effects, results from our Ovarian Cancer In America Survey provided a glimpse into life after an ovarian cancer diagnosis.
First learning about ovarian cancer
Ovarian cancer is the second most common gynecologic cancer in the United States and is also difficult to diagnose due to the lack of early detection.1 Only 3 percent of our respondents were diagnosed from screening prior to any symptoms. Nearly 7 out of 10 had ovarian cancer detected after going to a healthcare professional with symptoms. Fifty-six percent of respondents were diagnosed within 2 weeks of their symptoms.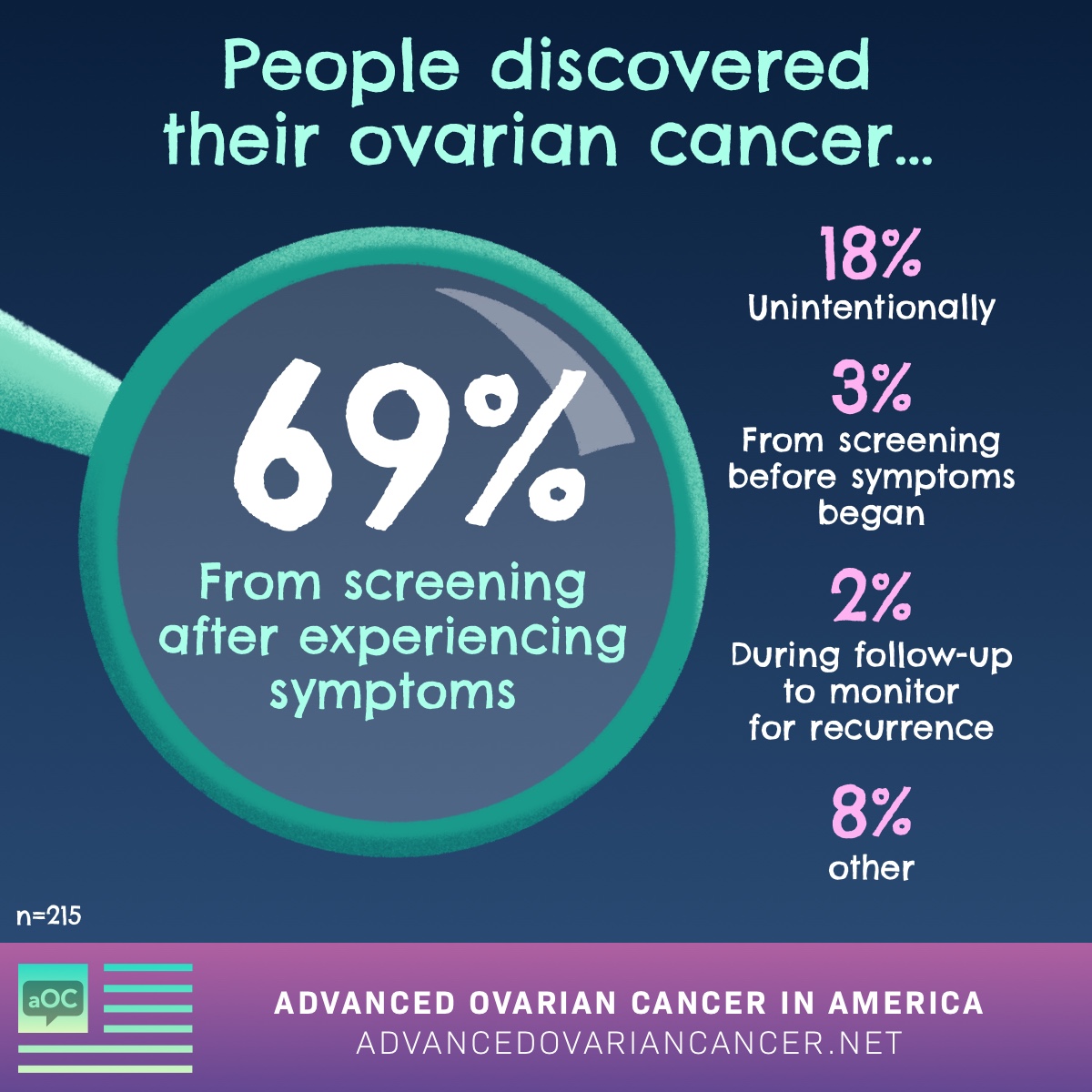 Top ovarian cancer risk factors
While anyone with ovaries can develop ovarian cancer, there are risk factors that may increase a person's chance of developing ovarian cancer. Seventy-six percent reported having at least one risk factor with over two-thirds having a family history of ovarian cancer, colorectal cancer, and/or breast cancer.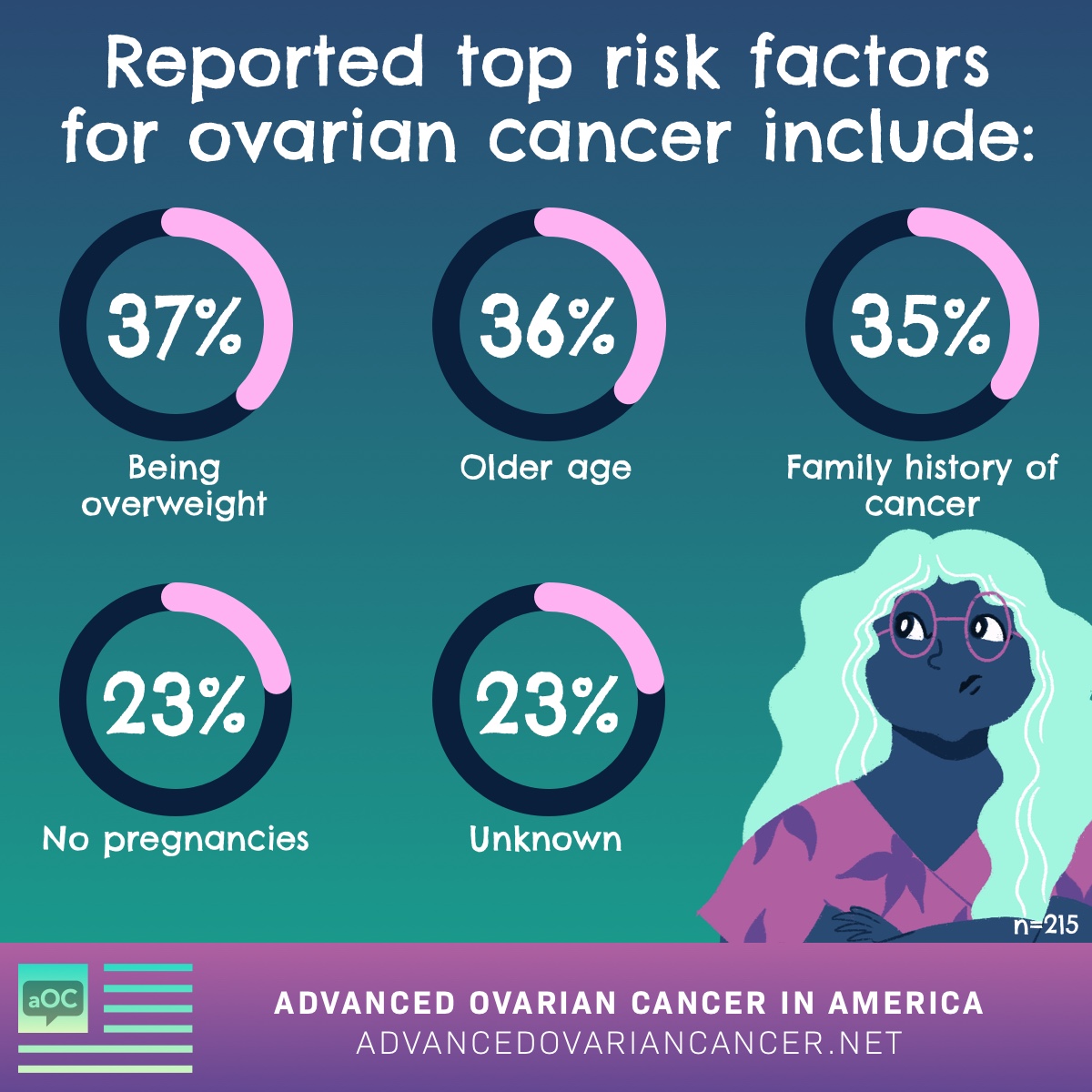 Treatment side effects are common
Nearly all respondents who took the Ovarian Cancer In America Survey said they experienced some type of treatment side effect. Some of the top symptoms include fatigue, hair loss, constipation, and neuropathy. Fatigue was reported as the most common side effect.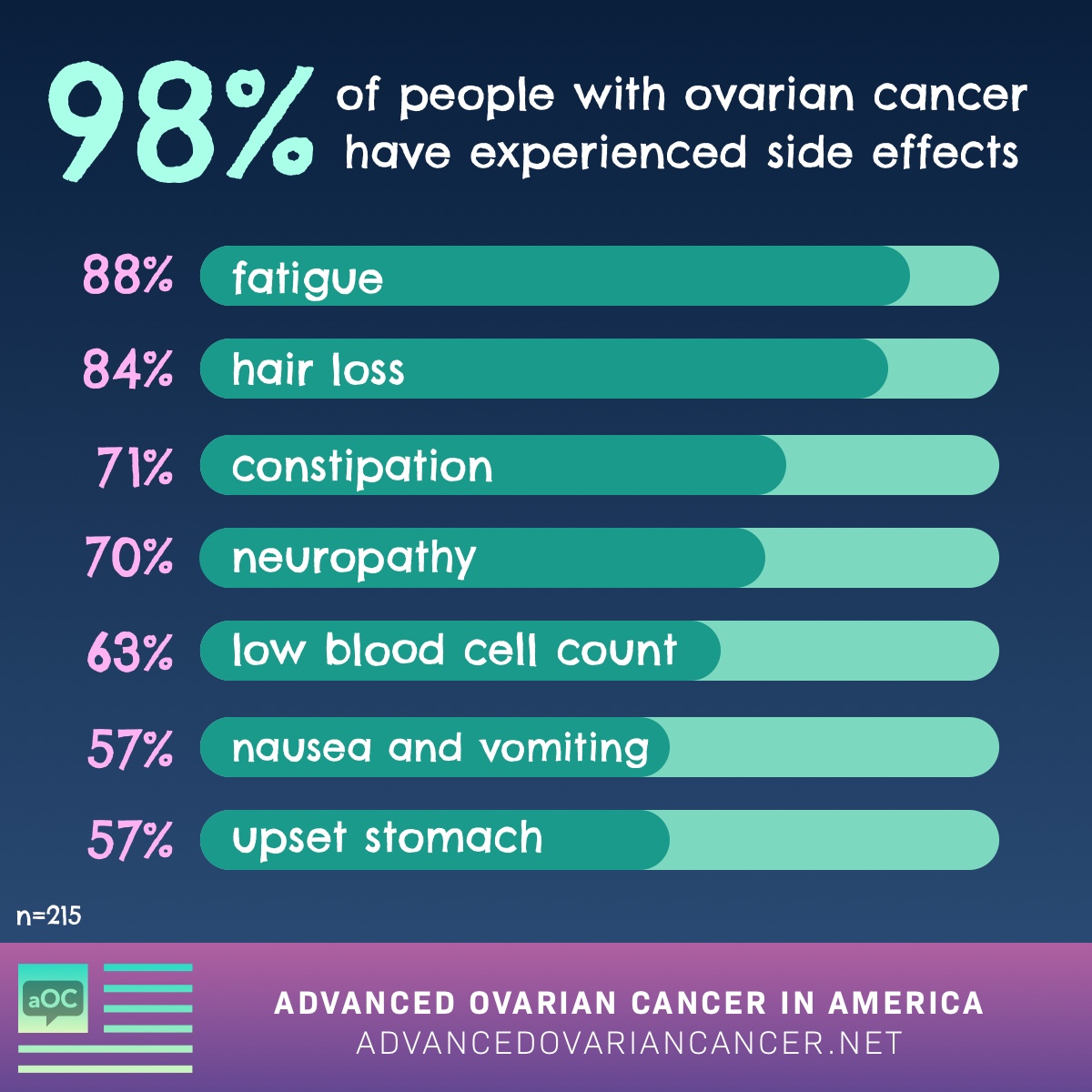 Navigating treatment decisions
Treating ovarian cancer can depend on a number of factors, such as cancer stage, tumor characteristics, and personal health considerations. Ovarian cancer is most commonly treated with a combination of surgery and chemotherapy. Newer treatments, such as targeted therapy, are diversifying cancer management options. Although targeted therapy is often used for recurrent ovarian cancer, nearly half of survey respondents report using targeted therapy to treat their ovarian cancer.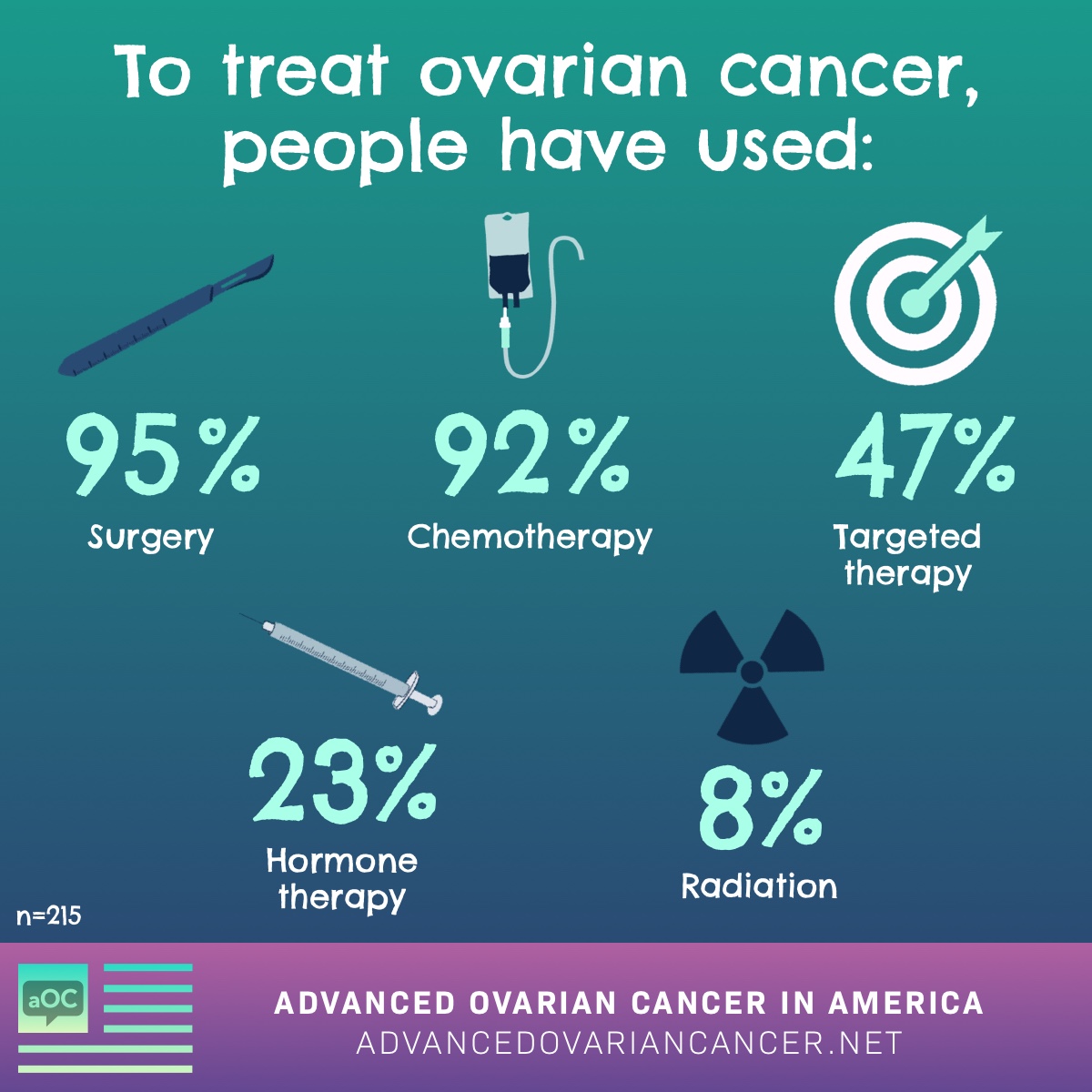 Outlook on life since diagnosis
When it comes to outlook on life after an ovarian cancer diagnosis, almost 9 in 10 respondents agreed that their attitude was an important aspect. Those who have relapsed are more likely to feel their attitude is more of a significant factor in quality of life compared to those who have not relapsed. Almost 75 percent of respondents agreed that ovarian cancer was not going to stop them from making long-term plans.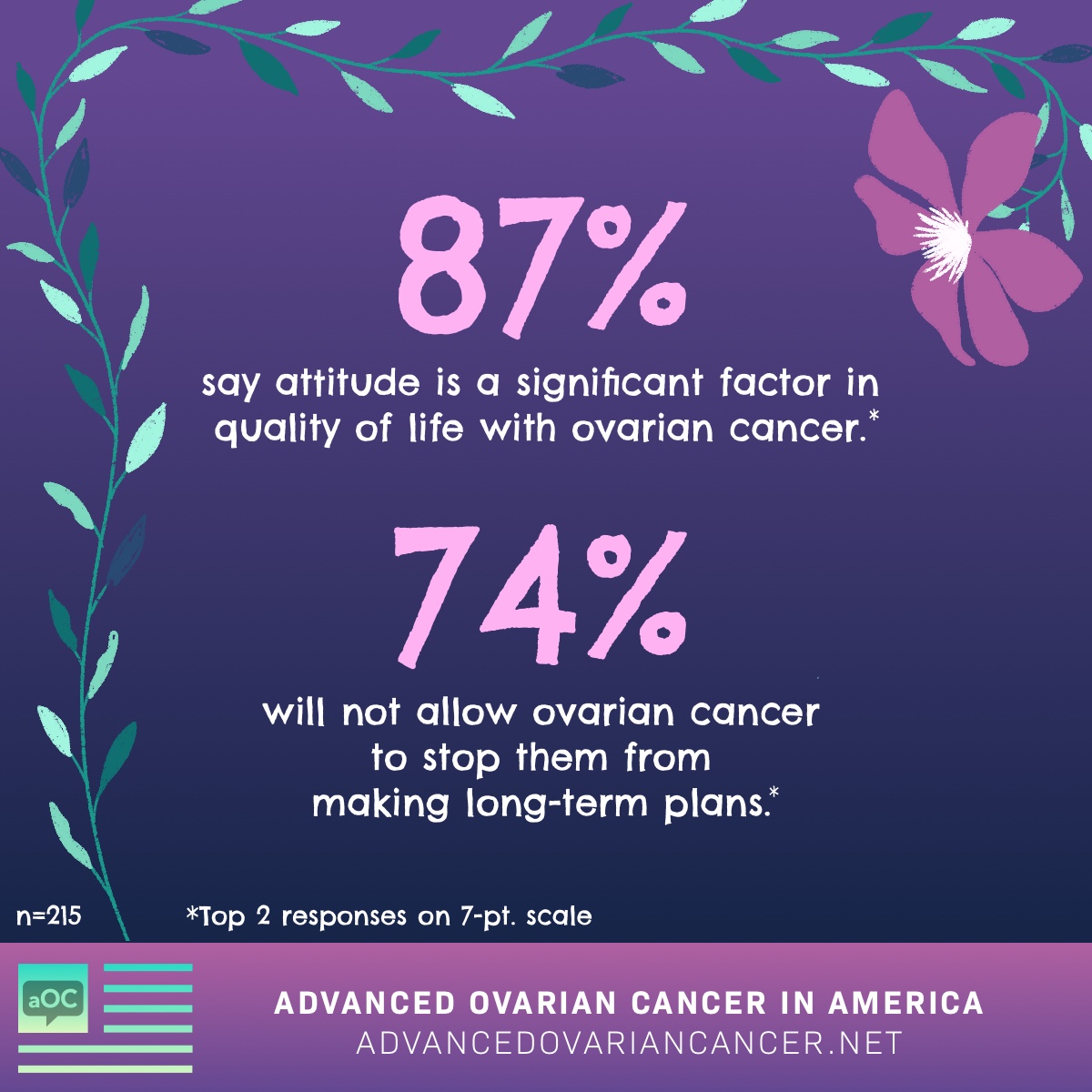 Everyone's experience with ovarian cancer is unique. Can you relate to these experiences living with ovarian cancer? Tell us about your diagnosis experience, treatment decisions, and side effect management by submitting a story.
The Ovarian Cancer In America Survey was conducted online from December of 2020 through March of 2021. Of the 215 people who completed the survey, 62 were people who have been diagnosed with early-stage ovarian cancer, and 153 were diagnosed with advanced ovarian cancer.

Community Poll
Do you have things that helped you cope through your ovarian cancer journey?